There may be several reasons why you might want to use voice orders on your android device. This may be due to the fact that you cannot use the touch screen at the moment, or due to physical limitations. Or you want to simplify the use of a smartphone for your parents or grandparents.
google already has a fairly functional voice command feature built right into the Android operating system. The operating system comes with Google Assistant which can perform several actions from web searches, set alarm, check notifications to open WhatsApp and send message.
Additionally, Android also has an accessibility feature called 'Voice access' which allows users to take full control of their Android device using voice commands. This means that users can navigate the user interface using voice commands. It allows users to say things like Open web browser and open www.gadgetsnow.com. It also includes basic commands like Go back, page forward, delete an app, download an app, open MX Player or Prime Video, and search for a particular TV or show.
If it's a bit more extensive, some OTT apps, Google Play Store, browsers, etc. offer a native voice search function.
So, in this explainer, we will explain the three ways to use voice commands on your Android smartphone or tablet.
Using the Google Assistant
To do this, you will need to activate Google Assistant on your smartphone and configure it to recognize your voice. Here are the steps you need to follow:
Open the Google app on your smartphone or tablet. If not installed, download it from Google Play Store
Tap your profile icon and head to Settings
Here, tap on the Google Assistant option
Scroll down and tap on the "Hey Google & Voice Match" option
Enable the Hey Google toggle. It will then open a voice match page where you need to teach Google Assistant to recognize your voice by following the guidelines.
After that, go back to "Google Assistant" settings and tap on "Languages"
Then press 'Add a language' and choose the language of your choice.
From the Settings page, tap on the lock screen and enable the toggle "Assist response on lock screen".
You can also choose whether you want to see personalized Assistant results on the lock screen or not.
Finally, go to the "Settings" page and tap on "Offline Speech Recognition" and download your preferred language. This will ensure that the voice command will work even without an internet connection.
That's it. Google Assistant is ready on your smartphone. All you have to do is say the magic words and the wizard will do it for you.
Using Voice Access
Voice Access is an accessibility feature that allows user interface control using voice commands. All smartphones running Android 5 or newer will support this feature.
To get started, head over to Google Play Store and download the Voice Access app.
Skip this step if it is already installed on your handset.
Now head to 'Settings → Accessibility → Voice Access and enable it.
Don't forget to activate the Voice Access shortcut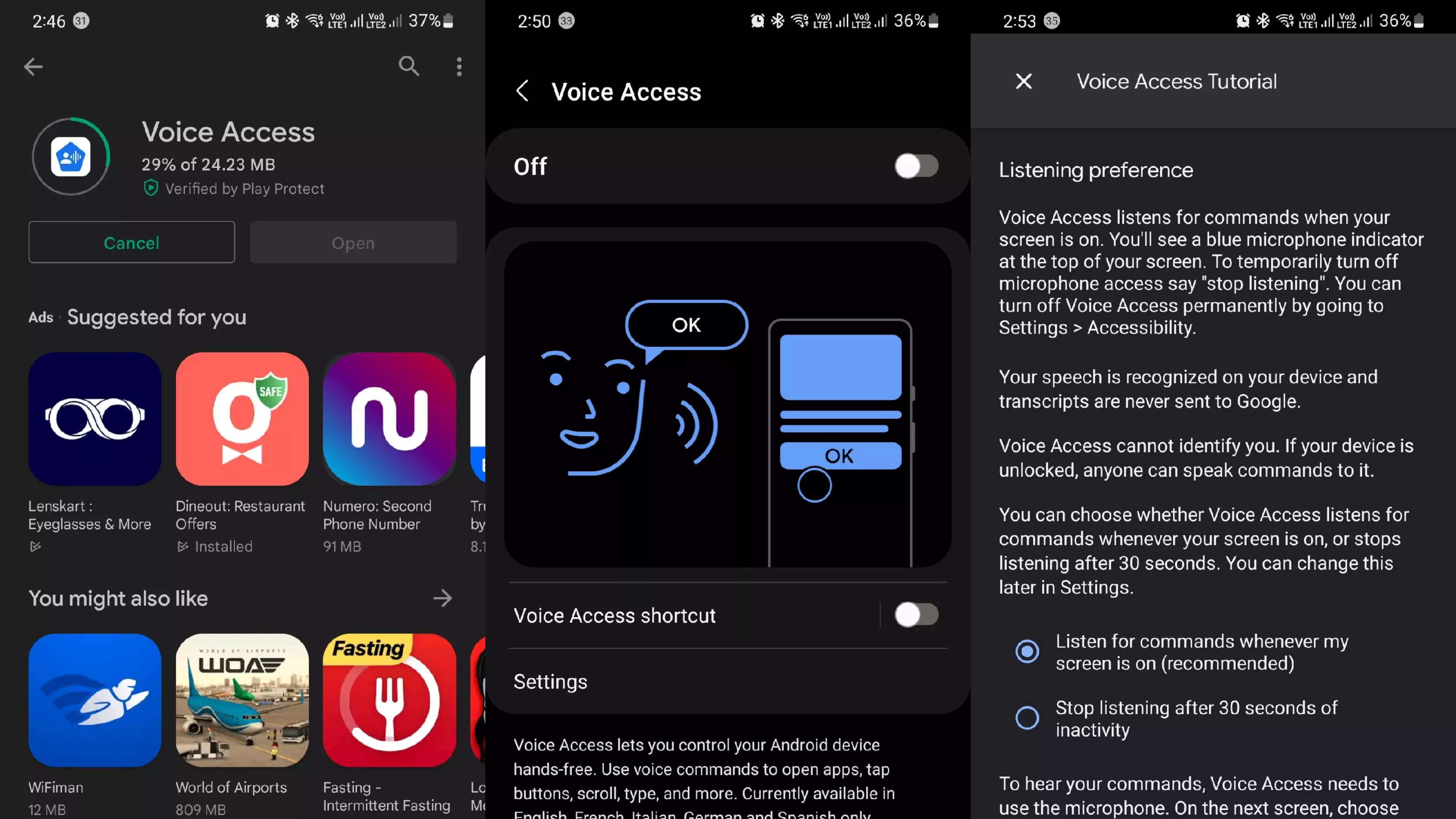 After that, it will guide you through a basic tutorial on how to use Voice Access to navigate the smartphone. Additionally, under voice access settings, there's a full list of commands you can use.
Once everything is set up and ready, all you need to do is tap the shortcut or ask Google Assistant to enable voice access and say the command like Open WhatsApp, scroll up , down, answer call, reject call, make call, etc.
Using Native App Voice Support
As mentioned, apps like Chrome, Play Store, OTT apps, etc. come with built-in voice search capabilities. This allows users to talk and search. For example, you want to search for a video on YouTube.
Just open the app and tap the "mic" icon in the top right corner and speak. YouTube to run this search for you. The same goes for other apps that have a microphone icon in the app.